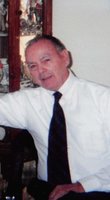 John Lester
Graveside services for John Sherman Lester, 87, of Troup, will be at 3:30 pm, Friday, September 22, 2017 at Cathedral in the Pines Cemetery, 7825 S Broadway Ave, Tyler, with Reverend James Womack officiating Arrangements are under the direction of Cottle Funeral Home, Troup.
John Lester passed away in Troup, Tuesday, September 19, 2017. He was born July 25, 1930 in Lesterville, Missouri to the late Paul Vernon Lester and Mary Lou Jacobs Lester. John worked for many years as an autobody mechanic and was in the United States Navy. He enjoyed picking and playing the guitar and getting together with family and friends.
He is preceded in death by his wife, Christine Lester, his parents, siblings, Bettie Piper, and two grandchildren.
Survivors include two stepsons and spouses; eight grandchildren, five great grandchildren, numerous great-great grandchildren; other relatives and friends.